Here is our guide to some of the events in and around Vejer de la Frontera in 2017.
Pilgrimage of the Virgin of la Oliva: 7th May
A traditional pilgrimage where an effigy of a virgin gets carried to the countryside with lots of singing and dancing.

Vejer by Candlelight: 3rd June
With the whole town atmospherically illuminated by candlelight this is a magical time to visit.

Fiesta de San Juan: 23rd June
The fiesta of San Juan is celebrated on the shortest night of the year with bonfires being lit all along the coast of Andalucia. Tradition dictates that people write down a problem or a worry, then throw it into the fire to be rid of it; alternatively, people jump over the bonfires three times to cleanse themselves of all problems.

Three Cultures Medieval Festival: Final week of July
Vejer is turned over to the signs and sounds of the three cultures that make up Andalucia – Christian, Moorish and Jewish. Stalls line the streets with food, drink and artisanal products to buy, and its beautiful plazas are filled with singing and dancing.
Feria of Vejer de la Frontera: 10th-24th August
Vejer de la Frontera's annual fiesta. Expect a huge party in the street, a fairground, flamenco dresses and general frivolity.

Race up to Vejer: First Week of October (exact date TBC)
Sports cars race up the winding road to Vejer. For the petrol-head it's a perfect excuse for a weekend away.
Gastro Events in Vejer de la Frontera
Route of Retinto Meat: 15th – 16th April 2017
Retinta is one of the three pure breeds of cattle in Spain. And in mid-April the restaurants of Vejer hold a weekend where they all make special dishes around this delicious meat.
International Day of Manteca: 14th – 15th October 2017
Another tapas route around the restaurants in Vejer de la Frontera is the weekend of Lomo en Manteca or pork in lard. Bear with us on this one, it's delicious and a delicacy – give it a go.
Annual Tapas Route: 9th – 10th December 2017 (TBC)
This weekend some of the (usually closed) typical Andalucian houses of Vejer de la Frontera open their doors to the public. To coincide with this there's an organised tapas route around most of the restaurants and bars.
Things To Do Outside of Vejer
Jerez de la Frontera May Horse Fair: 13th – 20th May 2017
This special event showcases the finest horses of Jerez, which are as representative of the city as its infamous sherry and flamenco.
Horse Racing on the Beach in Sanlucar de Barrameda: 3rd – 5th & 17th – 19th August 2017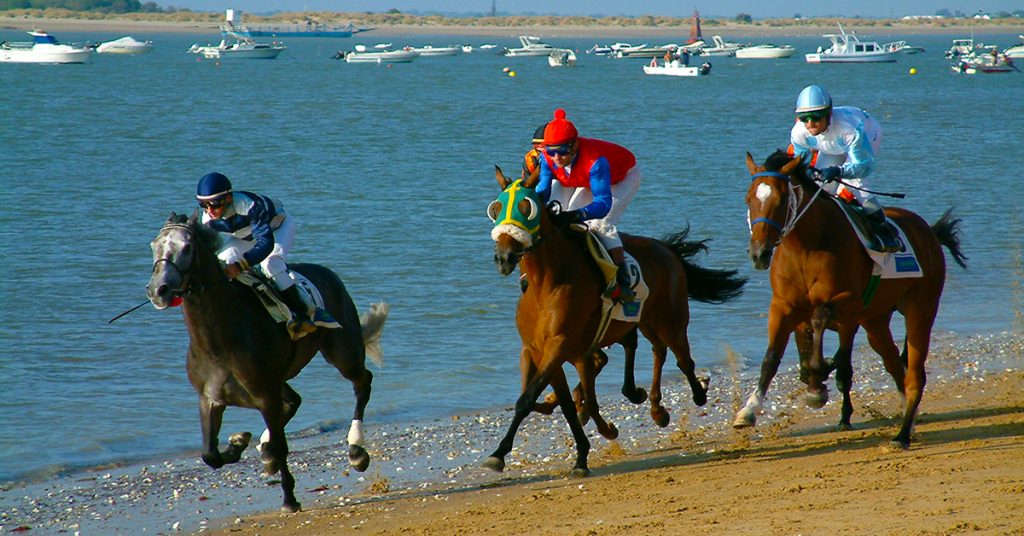 The town of Sanlucar is known for two things: its dry sherry (Manzanilla) and its annual horse race. Be sure to get to the beach early, as it gets crowded soon before the normal 6pm start time.
If you like the sound of these things to do in and around Vejer this year, check out our rates and join us for your holiday this year.